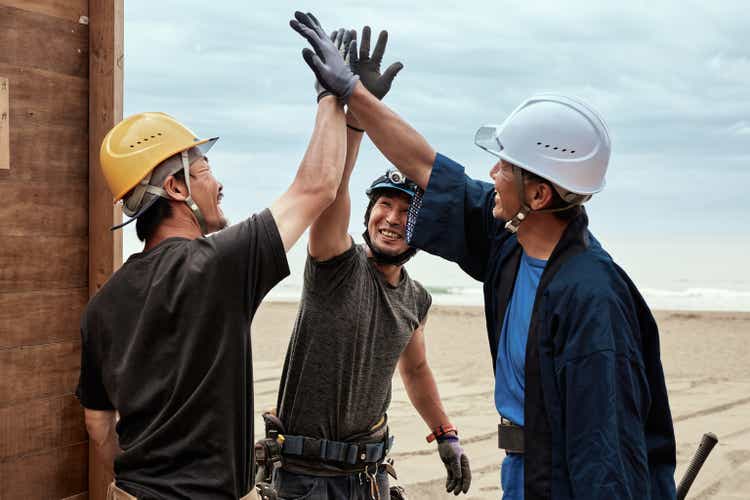 The latest non-farm payrolls report showed the U.S. added +223k jobs in December, above expectations of 200k, and slightly below the 256k November result. What was more critical in the data was the hourly earnings trend, coming in at a cooler 0.2% monthly increase compared to a consensus estimate of closer to +0.3%. The unemployment rate also ticked lower to 3.5% from 3.7% last month.
The market response was positive with stocks and risk assets rallying through an interpretation that the softer wage pressure is favorable towards easing inflation as it relates to the next steps in Fed policy. This is in an environment that has been defined by otherwise extreme pessimism and ongoing volatility in the S&P 500 Index (SP500) this first week of 2023.
One of our takeaways from the NFP is that the December jobs trend highlights an underlying resiliency in the economy, and goes a long way to brush aside fears of a deepening recession or broader collapse in activity. In other words, despite stubborn inflation in 2022 and sharply higher interest rates, economic activity has been able to move forward. This furthers the argument toward a "soft landing" scenario in 2023 that has been the basis for our belief in a rebound in stocks.
Softer Wage Growth Favorable To Lower Inflation Outlook
Within the official BLS statistics, strength in hiring from industries like food services, leisure, and hospitality services, offset small declines in professional services. The dynamic here considers that very tight labor market conditions in some sectors last year have loosened allowing employees to add workers where necessary. This balances out some headline-making layoffs for other companies as the economy continues to normalize out of pandemic disruptions.
As it relates to wage growth, keep in mind that the start of last year was nearly a bonanza for salary increases and hourly earnings following the 2021 stimulus-infused windfall for most companies. Entering 2023, the more challenging macro backdrop means wage hikes have slowed, particularly against the high benchmark set in 2022.
There's an argument to be made that the labor market is no longer a core driver of inflation at this stage in the cycle, or as an explanation, with several months of strong job growth even as the CPI has trended lower. That's the setup ahead of next week's marquee inflation update where several factors are coming together suggesting another downside surprise to the CPI.
December CPI Report Preview
Without being dramatic, the December CPI report set to be released on Thursday, January 12th represents a pivotal momentum for financial markets setting the tone for the rest of the year.
As stock market bulls, we want to see a continuation of the trends from November where the headline annual rate at 7.1% came in below forecasts at 7.3%. The monthly rate at just 0.1%, averaging 0.2% since July, implies a forward trend of inflation under 2.5% which is beginning to approach the Fed's mandate target.
With evidence wage growth was subdued with the latest December payrolls, the impact should at least help to ease pressures on core components of the CPI. Indeed, reports of falling used-car prices, housing, and even big merchandise discounts from retailers during the holidays can all play a role in pushing the monthly and annual rate of inflation lower. With energy, the trend has turned deflationary with prices of oil and gasoline, in particular, trading at the lowest level in over a year.
Our forecast is for a -0.1% monthly CPI print pushing the annual rate in December under 6.7%, the lowest level since Q4 2021. This also considers that over the next few months, inflation begins to hit very tough comparables from the start of 2022 when the monthly rate was accelerating at a gruesome monthly pace of +1.2% back in March.
From there, the data will feed right into the January FOMC later this month where the Fed could have room to make significant adjustments to its messaging, backing away from the fire-and-brimstone hawkish narrative that was a staple in 2022.
What About Stocks?
We haven't been coy about being very bullish and a call for inflation to surprise lower next week should be very positive for stocks. It's not a stretch to imagine that news headlines next week might be hailing the encouraging development of inflation sharply lower as a positive for consumers and confirming some early success in the Fed's strategy. Sentiment on the investment side can get a boost proving a lift to indicators like industrial activity and the services PMI.
The pivot to watch is room for bears to begin flipping long, as a market-wide momentum-fueled short squeeze. Check out our recent article where we set a year-end price target for the S&P 500 at $4,777. Putting it all together, bulls should be sleeping well this weekend with risks tilted to the upside over the near term, in our opinion.
Q4 earnings season also kicks off next week with the big banks reporting. With most sectors, a monitoring point will be how well companies are able to maintain profitability by balancing price hikes initiated last year against potentially softer demand. Lower inflationary pressures could be positive for margins as a theme for 2023.
This is against an alternative view by some that inflation remains out of control, and the Fed will need to keep hiking rates higher and stay hawkish for longer. So in terms of risks, a shocking surprise higher to the CPI next week, above consensus, would crush stocks through a reset of interest rate expectations even higher.
A break in the S&P 500 to a new cycle low under 3,500 as an index level would mark a deterioration of the economic outlook as a more concerning scenario. The volatile Russia-Ukraine situation still represents a market tail risk in the potential of an escalation into Europe which would add to a resurgence of inflation.