view original
post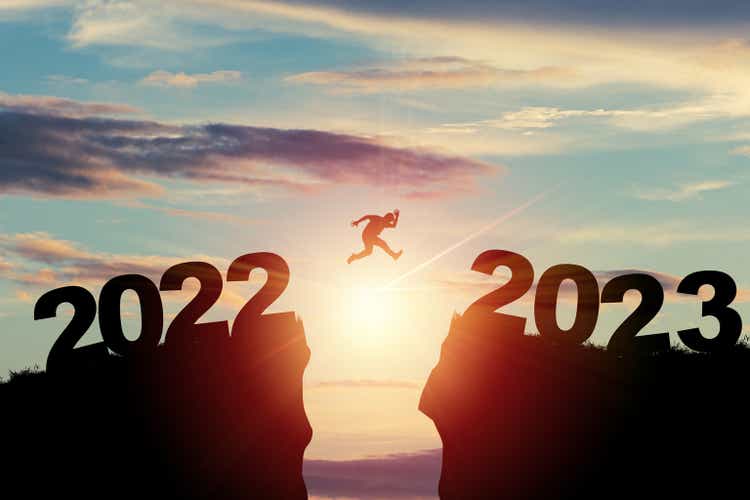 My first year on Seeking Alpha has come to an end and therefore I would like to look back towards my personal experiences and knowledge gained in 2022. Further, I will review my articles' performance over the last year, since I feel it is important to be accountable. I write to a relative large group of investors and next to other acknowledged writers. As a result, high standards should be in place to defend regular investors and help protect the name Seeking Alpha has built over the years. I am happy I got the chance on Seeking Alpha to prove myself as a young investor.
My Journey
The year 2022 has been one with a lot of up and downs, but funny enough that is how the stock market works. Overall, I did learn more than ever before about the stock market and investing. As a young investor, who started at the beginning of 2021, I am still shaping my investing strategy and research process. One that must be compatible with my risk-tolerance and life goals. Therefore, I feel like it is still reasonable for me to make some mistakes and I should not be too strict on myself, as it could hurt my identity growth within investing. Of course, I am aware that I need to finish up 'my learning time' as soon as possible to start building meaningful wealth.
My main blunders can be summarized in three sections:
– Thinking in dividends only
– Paying any price
– Losing patience
Each of these impacted my results so far, yet I am relieved I got to experience these mistakes so early. These are rather basic mistakes but they are also commonly made.
Thinking in dividends only
On the 28th of December 2020, after finding a broker that accepted students and had reasonable fees, I bought my first shares of Realty Income (O) and Intel (INTC). At the time, this was a big step for me, putting some of my hard earned money from student jobs into something uncharted. Before buying I read all kind of articles and looked on several websites, which stocks were "good buys". Of course, without doing my own due diligence, because I didn't have a clue where to look at. I told myself to just give it a go and you will learn throughout your journey.
My first focus were dividend stocks. A youtuber Joseph Carlson gave me the introduction to dividend growth and compound interest. The way you could exponentially increase your money over time just sounded ridiculous to me. I had never heard of that before! No one that I knew in my family and neighborhood was doing it, I even doubted if it was real.
If an American saves 10% of his average annual income of $50.000, then he/she can invest around $400 monthly.
If an Europeans saves 15% of his average annual income of €33.000, then he/she can invest also around €400 monthly.
Both result in you becoming a millionaire with a minimum compound interest of 8%, if not even a multi-millionaire after a period of 40 years. The S&P 500 average return has been over 10% since 1957. Use the compound interest calculator yourself to find out what your future can look like.
Dividends are extremely attractive, as they are (mostly) a consistent and guaranteed source of income. Yet, it is not the only thing to consider while buying a stock. A perfect example for this is The Coca-Cola Company (KO). The company has an amazing track record of 60 years of dividend growth with dividend yield now standing at 2.92%. This is definitely a solid yield, but we are still missing a large piece of return to reach the average rate of return the S&P 500 does.
There are two other ways a company can return money or value to shareholders, those are share buybacks and stock appreciation. Shareholders benefit from share buybacks when the company retires the shares they buy. Through that way, the shareholder will gain a larger piece of the pie and his value of shares increase. If we look at the stock buybacks Coca-Cola has done, we see that they bought back $503 million of shares in the last trailing twelve months. That is only a yield of 0.19% compared to the market cap of $260 billion. In 2020 and 2021, we can also see that the company has diluted shareholders. So far, Coca-Cola only returns 3.11% to shareholders.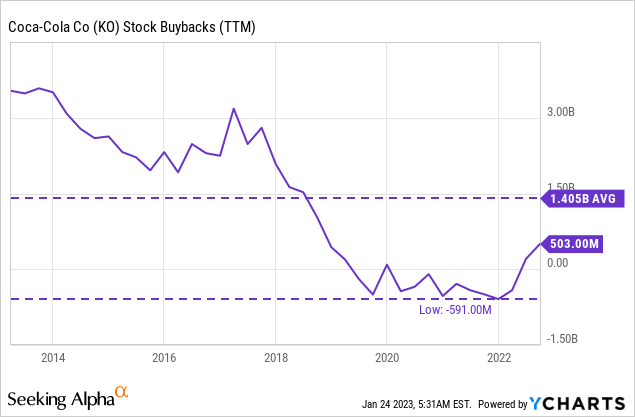 Stock appreciation is the last return investors can expect. Fundamentals of a company will in general correlate with price action. Revenue and income growth lead the stock higher, declining fundamentals will lead the stock lower. Coca-Cola's revenues and income have been stagnant over the past 10 years. Nonetheless, the price has been going up. Share buybacks have been able to boost up the stock in the past, but how long can this go on?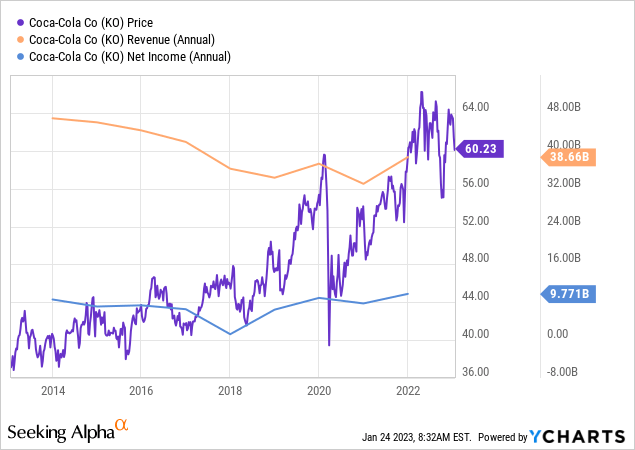 Since 2014, Coca-Cola's multiple of EV to EBITDA has been expanding as EBITDA did not grow along the price action. Investors should not expect any stock appreciation going forward, because the fundamentals simply do not support it.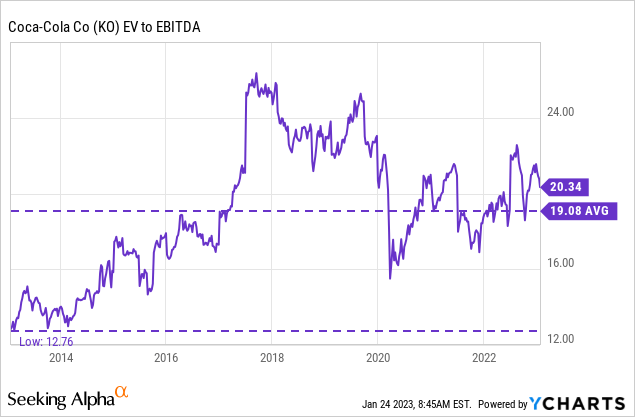 I, myself, also started out with investing in KO. Luckily, I could sell it at a decent profit, due to the raising fear investors had with inflation and the Ukraine war. Defensive stocks saw a spike in demand, nevertheless upside potential for those is almost zero right now.
I learned to look through the shiny dividend yield and find value. My goal is to perform at least similar as the S&P 500 and try to outperform it as much as possible. By investing in KO now, investors should not expect more than a 4% annual return, if the fundamentals do not improve.
Paying any price
In hindsight, 2021 and 2022 weren't the best years to start building my portfolio. However, it was a great learning experience and I do feel no regrets. After a chaotic 2020 comeback run, stocks had already ran up a lot and alerts of bubbles in tech and real estate were given out by various analysts.
On the 5th of January 2021, I bought my first shares of NIO and that is where one of my big mistakes began. NIO was one of those upcoming electrical vehicle makers, that was supposed to rival Tesla (TSLA) on the global market. Tesla's stock exploded in 2020 and I (stupidly) wanted to find the next Tesla. Little did I know that fundamentals do matter… when the hype is gone. After a couple of days, the stock rose to an all-time high following the spectacular NIO-day (investor day). Unfortunately, I did not sell my shares at the time, I waited till the stock had fallen to $24 and lost around 50% of my money. If I waited till now I would have lost another 50%.
That is why it is so crucial to understand that in the long run, the price will align with the underlying fundamentals. Sometimes the stock price will go above the value of fundamentals, sometimes the stock price will go below the value of fundamentals. We should try to look for stocks that trade below the value of fundamentals and sell the stock again when it trades above the value of fundamentals.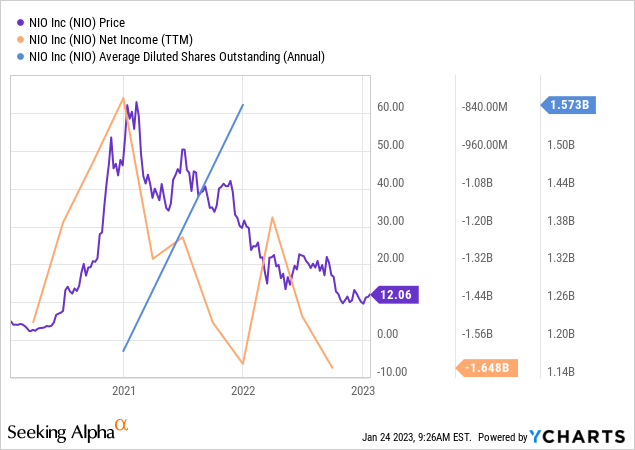 Losing patience
The last thing I learned in 2022 has everything to do with patience. Patience might be the most important skill to have in investing. Most of the time wonderful companies trade at fair value or above. This means returns are limited in the long-run. Therefore, investors have to be patience to buy those companies below fair value to get a win-win situation. While I was building out my portfolio, I skipped the part of having patience to buy the companies I wanted, as a result limiting the upside potential I could reach.
Letting your investment thesis play out is another key principle while investing, though it is important to re-evaluate your thesis regularly. I invested in Carnival Corporation (CCL) in July 2021. My thesis back then was that the cruise ship company would benefit from the reopening after Covid-19. On the other hand, I did not expect the company to keep diluting shareholders to keep funding their business. That is when I cut my losses in the beginning of 2022. It played out for me, because the shares sank a whole lot deeper.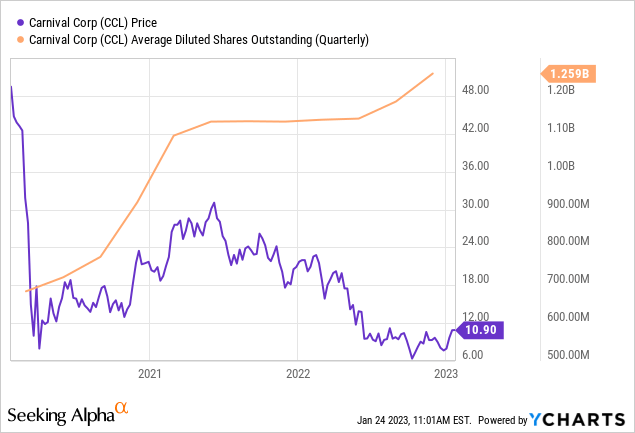 The performance of my articles in 2022
Overall, my article recommendations have performed exceptionally well. You can check out my performance and overview of my articles on my profile. I made a summary in the table below. In 2022, the average return on my articles was 8.84% compared to the S&P 500 return of 1.45% over the same time period.
Table 1: Performance articles 2022 (Recorded on 22 Jan 2023)
| | | | |
| --- | --- | --- | --- |
| Company Name ($) | Recommendation | My total Return | S&P 500 Return |
| Daqo New Energy (DQ) | Strong Buy | -25.64% | -3.48% |
| Kulicke and Soffa (KLIC) | Buy | 32.89% | 4.75% |
| Viatris (VTRS) | Strong Buy | 22.82% | -3.21% |
| MGM Resorts (MGM) | Strong Buy | 17.32% | -1.55% |
| Alphabet (GOOG, GOOGL) | Strong Buy | -2.19% | 5.33% |
| Daqo New Energy (DQ) | Strong Buy | -2.01% | 3.81% |
| Daqo New Energy (DQ) | Strong Buy | -9.52% | 3.77% |
| Viatris (VTRS) | Strong Buy | 8.28% | 5.98% |
| Meta Platforms (META) | Buy | 25.81% | -0.82% |
| Fidelity National Financial (FNF) | Strong Buy | 14.66% | -1.96% |
| MGM Resorts (MGM) | Strong Buy | 14.85% | 3.37% |
| | | |
| --- | --- | --- |
| Average Return 2022 | 8.84% | 1.45% |
Surprisingly, my Buy articles outperformed my Strong Buy articles. I gave Meta Platforms (META) and Kulicke and Soffa Industries (KLIC) a Buy rating, because I saw the possibility of more downside risk along with a good value proposition. Risk vs reward is what all investors should think of when making an investment decision. Although, investors liked the undervaluation and bought up shares rapidly, I think the advertising and semiconductor business might see some more hits going forward.
Daqo New Energy (DQ), the worst performer in my list, has seen some downward movement in the end of 2022 as polysilicon prices took a hit. The same thing happened last year, but investors got fooled again. In the fourth quarter demand for solar products sees a seasonal drop, which result into lower polysilicon prices. Following a rebound in the polysilicon prices this week, Daqo rose 25% in value. I am glad I bought some more shares around $37 a share. I expect polysilicon to recover further and then stabilize as China's recovery will have a positive impact on solar demand.
MGM Resorts (MGM) has also regained positive momentum, due to the reopening of Macau and the success of the CES (Consumer Electronics Show) 2023 event in Las Vegas.
Takeaway
Everyone makes mistakes in investing. Those who learn from their mistakes will outperform the others. Create a process that fits yours risks and goals, afterwards finetuning is all that is left. I am very excited to continue my writing and investment journey here on Seeking Alpha. I hope I can deliver an even better 2023 performance, but who knows what will happen.
I want to give Psycho Analyst a shout out for inspiring me in writing this article. Check out their profile for thoughtful and well put together investment ideas.