AppLovin Corp. shares added back more than $1.2 billion to its depleted market capitalization Thursday after the company surprised Wall Street with a strong quarter and a forecast that may be changing Wall Street's view of the weakened mobile-ad market.
AppLovin 
APP,
+27.05%
 shares soared more than 30% Thursday to an intraday high of $17.38 — just short of the stock's best day ever, when it closed up 34.7% on May 12, 2022 — and closed the session up 27.1% at $16.11. Rival Unity Software Inc.
U,
+9.96%
also rallied, showing improving views for mobile ads as a result of AppLovin's outlook that topped Wall Street estimates and executives' remarks that the mobile-ad market was "remaining relatively stable."
AppLovin was worth more than $40 billion at its pandemic peak, but at Wednesday's close, the stock had cratered 82% in the past 12 months, as AppLovin attempted a $20 billion acquisition of Unity and failed. AppLovin was worth just shy of $6 billion at Thursday's close, after ending shy of $5 billion on Wednesday.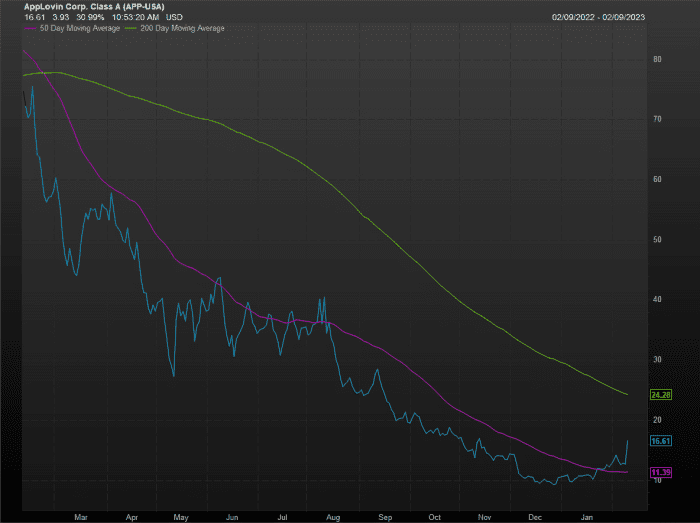 Unity's stock, which had dropped 66% over the 12 months ending at Wednesday's close, surged as much as 16% to an intraday high of $42.18, and finished up 10% at $39.95, while the S&P 500 index
SPX,
-0.88%
shed 0.9% and the tech-heavy Nasdaq 
COMP,
-1.02%
declined 1%. Unity is scheduled to report earnings on Feb. 22.
Read: There is a 'new normal' in the videogame industry, and Wall Street is still adapting
The results and forecast led analysts to change their expectations for mobile ads as investors showed their growing optimism. In a note titled, "The Beginning of Better Things?" Jefferies analyst Andrew Uerkwitz asked if AppLovin's results indicated that a decline for mobile ads may be nearing an end.
"We may be approaching the bottom after mobile gaming results were almost all better than feared," he wrote.
JPMorgan analyst David Karnovsky said he's certain that investors had been bracing for another miss "and potentially commentary for some further deterioration in the market for app installs." AppLovin's beats were against lowered expectations from November, when the company posted yet another miss-and-cut quarter, while Unity, on the same day, also turned in a weaker-than-expected showing.
"The result follows comments from Take-Two [Interactive Software Inc.]
TTWO,
+0.39%
earlier this week that its Zynga portfolio had improved off the lows and that recent trends were positive," said Karnovsky, who has a neutral rating and an $18 price target. "While we think it's too early to say the mobile market is on growth footing, collectively, there's at least some indication from [fourth-quarter] results that the worst of IDFA/economic impacts may be behind us."
IDFA, or Apple Inc.'s
AAPL,
-0.69%
 opt-out of using Identifier for Advertisers, became a real thorn in the side of companies like AppLovin and Unity—with the latter spending 2022 recovering from a disclosure in May that its Operate Solutions ad-targeting tools contained a flaw. Those were the same tools that had been credited with creating an IDFA workaround.
Goldman Sachs analyst Eric Sheridan, who has a buy rating on AppLovin and raised his price target to $23 from $21, said he expects investors to "stay focused on the volatility in the advertising/gaming end markets" in the short term, whereas he is looking at the long game.
AppLovin's businesses are "producing above average industry growth and a strong margin profile in a recovered mobile ads/mobile gaming landscape," Sheridan said.
Read: 'Call of Duty' may need to spin off from Activision for approval of Microsoft deal
What about Axon 2.0?
Much of investor interest is focused on the release of AppLovin's updated machine-learning-recommendation engine Axon 2.0, which the company said would launch sometime in 2023. The company plans to invest some of its $1.1 billion cash on hand to upgrade Axon 2.0 to be powered with AI tech.
"Axon 2.0 could drive growth, but until that comes we remain focused on the broader mobile games market," said Uerkwitz, who has a hold rating and raised his price target to $12.50 from $10.50.
AppLovin said the $1.1 billion on its balance sheet at the end of 2022 would be used for "key projects, strategic acquisitions, and share repurchases."
From 2021: 5 things to know about AppLovin
Benchmark analyst Mark Zgutowicz, who has a sell rating and a $9 price target, believes AppLovin's AI efforts may get ignored because of similar efforts at larger tech companies.
"Net-net, we continue to believe the (sub-premium) hyper-casual mobile gaming sector is in secular decline" and that AppLovin's Axon 2.0 "will be overshadowed by Apple and Google's
GOOG,
-4.54%
next restrictive privacy covenants: Private Relay and GAID (Google Ad ID), respectively," Zgutowicz wrote.
The Benchmark analyst also wrote that he was not pleased with the lack of a breakout in the outlook for the separate software and app segments, which executives typically provide.
In AppLovin's fourth quarter, software revenue rose 24% to $306 million, while app revenue fell 28% to $396 million. Analysts had expected $303.1 million in software revenue and $313 million in app revenue.
Zgutowicz also said he did not agree with AppLovin execs on their decision to stop providing quarterly data on Software Platform Enterprise Clients and Revenue per SPEC, "which we view as staple measures of net client retention, platform efficacy/returns, and uptake/scale of new products."
Both AppLovin and Unity went public fairly recently: AppLovin in April 2021 and Unity in September 2020.
From 2020: Unity Software: 5 things to know about the videogame-engine company
Of the 23 analysts who cover AppLovin, 14 have buy ratings, six have hold ratings and three have sell ratings, along with an average target price of $20.87, down from a previous $21.55. Of those, six raised their price targets, while three lowered theirs, according to FactSet data.