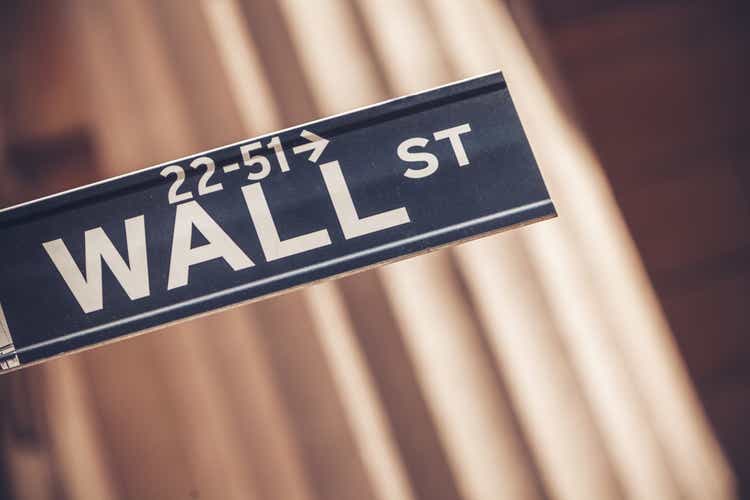 Stocks dropped again on Monday, adding to weakness seen at the end of last week, when a better-than-expected jobs report fueled increased worries about interest rates.
The Nasdaq Composite (COMP.IND) finished -1.0%, the S&P 500 (SP500) closed -0.6% and the Dow (DJI) ended -0.1%.
The Nasdaq led the major averages lower, dropping 119.50 points to close at 11,887.45. The S&P 500 retreated 25.40 points to end at 4,111.08, while the Dow slipped 34.99 points to finish at 33,891.02.
Nine of the 11 S&P sectors ended the day in the red, although most moves in either direction were relatively muted. Communication Services, Materials and Info Tech were the only segments falling more than 1%.
"On Monday, stocks continued the move lower that began late last Friday following a very hot jobs report. Some hawkish Fed Speak from Raphael Bostic didn't help the bull's cause late in the day, but the real focus will be on Chair Powell's speech tomorrow," analyst Mike Zaccardi told Seeking Alpha.
Zaccardi argued that the key question will be whether the Fed chief attempts to "walk back some dovish words uttered" during his press conference following the Fed decision last week.
"I think stocks just got too frothy near 4200 on the S&P 500 last week – a modest retreat is expected," the analyst added.
Stocks dropped on Friday, trimming gains posted earlier in the week, following the release of fresh data showing that the government added 517K jobs in January, significantly more than economists had predicted. Investors feared that ongoing resilience in the job market will stymie the Fed's attempt to get inflation under control.
With little major news to drive trading, this momentum carried over into Monday's action, spurring the major averages lower.
Looking to the bond market, Treasury yields advanced, adding to gains posted following the jobs report on Friday. The 10-year U.S. Treasury yield (US10Y) climbed 10 basis points to 3.64%, while the 2-year yield (US2Y) rose 16 basis points to 4.46%.
Looking at corporate news, Tyson Foods (TSN) dropped following the release of its quarterly report. Profits fell sharply from last year and came in well below analysts' expectations.