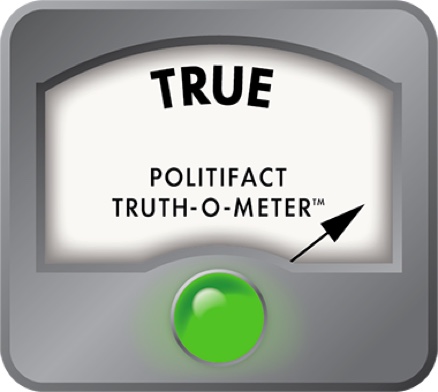 Gov. Kathy Hochul's plan to reduce natural gas usage in New York state has caused a flurry of criticism, especially from Republicans in the state Legislature. 
Senate Minority Leader Rob Ortt, R-North Tonawanda, during a news conference with Republican colleagues, blasted the plan, claiming that replacing natural gas-powered heating systems with electricity won't lower energy bills. That's because of the investment that would be needed in the electrical grid and in buildings to convert from a natural gas heating system to one powered by electricity.
"There needs to be investment in the grid," Ortt said. "The grid today can't handle the increased electric load. Don't take my word for it. That comes from National Grid, the people who run it."
We can't fact-check predictions of what will happen with energy bills. But we did wonder about his claim regarding the capability of the electrical grid and what would happen if the state moves away from natural gas, as Hochul has discussed. 
The proposal
In Hochul's State of the State address Jan. 10, she proposed that starting in 2025 newly built single-family homes be prohibited from installing equipment powered by fossil fuels, such as natural gas. That means no natural gas appliances, though her budget proposal contains several exemptions, including restaurants and hospitals. Her plan also recommends that, starting in 2030, homeowners who need to replace existing heating systems be required to do so with zero-emission systems.
The Hochul administration has said that existing gas stoves would not be affected by the fossil fuel heating equipment proposal. This means that under the proposal, existing gas stoves could be replaced but fossil fuel heating equipment could not. 
The grid
National Grid, one of several companies that delivers electricity to customers in New York, told PolitiFact that the grid could not handle additional demands as described in the state's climate goals, but said that it is making changes to meet those goals. 
Achieving New York's climate justice and emission reduction goals will require "significant investments in both gas and electric networks," said National Grid spokesman David Bertola.  
"We expect to see increased load from the building sector, where energy delivered by the gas networks is currently three to four times the amount of energy delivered by electric," Bertola said. "Paired with a rapidly electrifying transportation sector, the grid as it exists today could not handle these anticipated increases in load." 
The New York Independent System Operator manages the state's bulk transmission lines, and a spokesman, Andrew Gregory, directed us to the organization's Reliability Needs Assessment, released in November 2022. The report warns of reliability concerns based on increased usage due to weather conditions and other issues, including electrification of heating equipment and decommissioning of power generators.
The state's electricity regulator, the Public Service Commission, said that no one is suggesting that the change from natural gas to electricity happen immediately. 
The transition will happen over time, and that transition includes investment in the grid and in renewable energy projects and transmission infrastructure, commission spokesman Jim Denn said. 
Improvements to the state electrical grid are part of the state Climate Action Council's scoping plan, which was published before Hochul announced her proposals. "New and upgraded transmission and distribution systems will be needed statewide, including specific transmission and distribution investments that will be necessary to deliver energy from where the generation is located to where the load demand exists," according to the plan. 
Experts told us that the grid has more capacity in some areas, and less in others, and whether the grid can handle the added demand depends on where conversions from natural gas to electricity occur. 
Luigi Vanfretti, a professor at Rensselaer Polytechnic Institute, said that supply chain issues could disrupt plans to upgrade the grid, as some delays for transformers and other grid components can last between 18 months and three years. Grid projects can also require approvals and land acquisitions that take years. 
"The situation is pretty challenging, I would say," Vanfretti said. 
Ortt's office referred us to several previous statements from National Grid, including one from a Senate public hearing in January, in which the company's government relations manager, Raziq Seabrook, said that the company knows that the grid will have to expand to be able to provide the amount of electricity that is required under the state's plan. 
An associate professor from New York University's Tandon School of Engineering who studies sustainable engineering said that the grid will require additional capacity to support the shift away from fossil fuel energy sources, but will ultimately be cost-effective.  
"A significant change in our energy portfolio, such as the ones required for deep decarbonization, will necessitate investment in infrastructure to ensure safe and dependable power distribution," said Miguel A. Modestino, director of the sustainable engineering initiative. "Although these investments may have short-term costs, advancements in energy storage solutions like batteries and the efficient electrification of manufacturing will make the transition cost-effective and lead to long-term energy cost savings." 
Our ruling
Ortt claimed that the electrical grid today can't handle the increased load from a planned move in future years away from natural gas in new construction and in heating sources.
That's accurate.
Proponents of Hochul's plan say the state intends to increase the electrical grid's capacity as it transitions over time from fossil fuel-based energy sources. Fair enough. But that doesn't make Ortt's claim inaccurate. He said the grid wouldn't be able to handle the increased load today. And he's right.
We rate his statement True.