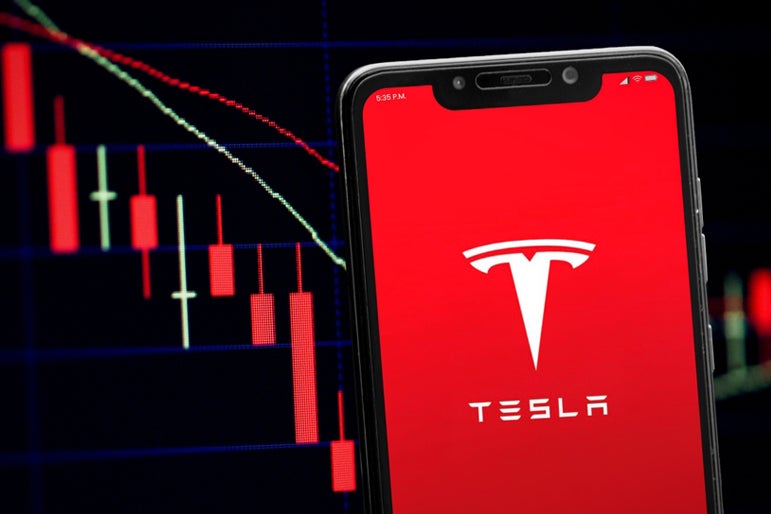 Tesla Inc. TSLA short sellers profited immensely in 2022 by betting against the stock. The tables have turned now and the skeptical crew is left staring at huge losses, as the stock took off vertically at the start of the year.
What Happened: Short sellers who bet against Tesla are down by about $6.75 billion for the year-to-date period, according to data from S3 Partners, reported Financial Times. The stock has been on a gravity-defying rally ever since it bottomed at $104.64 on Jan. 3 following its fourth-quarter deliveries miss.
See Also: How Did Elon Musk Make His Money
Sentiment took a turn for the better following Tesla's aggressive pricing reductions, its fairly strong fourth-quarter results and the positive management commentary on the earnings call.
Since the start of the year, the stock has gained 68%. The peak-trough gain is even more delectable at 98%.
Incidentally, short bets fetched mark-to-market gains of $16 billion in 2022, when Tesla lost 65% to be among the worst-performing mega-cap of the year, data from S3 Partners showed.
Given the adverse outcome this year, new short bets on Tesla will likely see a slowdown, FT said.
Tesla Most Shorted Among Mega-Caps: Notwithstanding the stock surge, Tesla is now the most heavily shorted mega-cap stock (over $200 billion in market-cap) now. Short interest as a percentage of the float is at 3.49% for Tesla, according to Yahoo Finance's database.
This compares to 0.77% each for Apple Inc. AAPL and Amazon Inc. AMZN, 0.68% for Alphabet Inc. GOOGL GOOG and 1.29% for Meta Platforms Inc. META. The relatively higher short interest for Tesla may have been due to skepticism over further upside, especially as competition intensifies, vehicle lineups mature and the macroeconomic situation remains fluid.
Tesla bull and Morgan Stanley analyst Adam Jonas said in a recent note that the window of opportunity on "valuation" has closed and further upside from current levels requires a narrative change following the March 1 Investor Meeting. Tesla is expected to announce Master Plan 3 and shed more details on its product roadmap at the event.
The stock rally could intensify going into the event but economic data that has implications for interest rates could play a spoilsport.
Price Action: Tesla closed Thursday's session 3% higher, at $207.32, according to Benzinga Pro data.
Read Next: Tesla Model Y Prices In China Just Got A Bit Pricier: Here's How Much It Costs Now