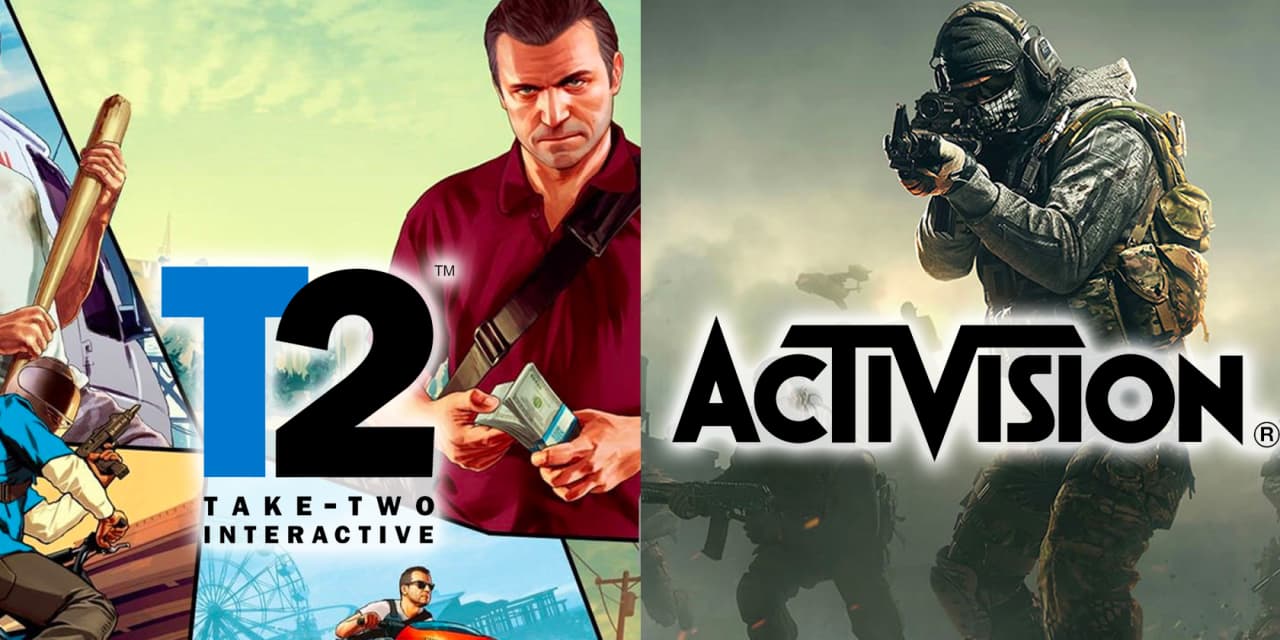 Despite somewhat disappointing holiday results, shares of Take-Two Interactive Software Inc. and Activision Blizzard Inc. jumped Tuesday, after analysts wrote that Wall Street's view of the videogame industry must change.
Cowen analyst Doug Creutz channeled baseball legend Yogi Berra, calling Take-Two's
TTWO,
+7.85%
report "déjà vu all over again" as the company's bookings missed expectations, a "very uncharacteristic third miss in a row" for the videogame publisher. Activision
ATVI,
+5.62%
hit its bookings target but missed with its forecast, adding to the disappointing holiday-quarter results from rival publishers Ubisoft Entertainment
UBI,
+0.72%
and Electronic Arts Inc.
EA,
+1.77%.
"Like Ubisoft and [Entertainment Arts, Take-Two's] management attributed the miss in part to difficult macro conditions, indicating that pressured consumers opted to stick to established franchises," Creutz said. "While we are not discounting management's reasoning, we tend to think this may simply be the new normal for the console/PC videogame market."
Jefferies analyst Andrew Uerkwitz had similar thoughts, asking whether Take-Two's "uncharacteristic quarter" was actually "becoming normal."
"Delays, weak mobile and underperforming titles are signs that something is amiss," Uerkwitz said. "With several peers also having near-term trouble, we do not believe it's a Take-Two specific issue, but also don't see it as 'macro.'"
Basically, what the analysts are saying is that it is becoming harder to get gamers to adopt a new game, but the games they do adopt will produce more revenue for a longer period. Take-Two Chief Executive Strauss Zelnick's repeated use of the word "blockbuster" in Monday's earnings call drove home the point that videogames have become even more like movies, in that Hollywood makes its real money by churning out sequels rather than taking a chance on new franchises.
More from Zelnick: 'ChatGPT is today's hand calculator,' Take-Two CEO says
"There is enough evidence that the right game launched at the right time will produce outsized returns — Take-Two's catalog, capitalized costs (now $1 [billion-plus]), and long-term track record keep it best positioned to take advantage," Uerkwitz wrote.
"We believe the value proposition of buying games and playing new games is changing," Creutz wrote. "Gamers are being conditioned with season passes, live services and end games that the purchase of such derives hundreds of hours of play."
Creutz continued: "With so much time invested in a single title, the switching costs are getting very high (overcoming learning curve, lost XP [experience points], lost season pass rewards, lost time with the squad, loss of skill). Thus, the quality expectation and return on time/money investment in a new game is becoming more difficult to overcome unless the new entry cost is near zero (FTP [free-to-play] or subscription)."
Also read: Videogame sales heading for decline in U.S., but one analyst sees a 2023 rebound
Take-Two publishes the videogame franchises "Grand Theft Auto" ("GTA")and "Red Dead Redemption" under its RockStar Games label, and "Borderlands" and "NBA2K" under its 2K label. Newer games, such as "Tiny Tina Wonderlands" and "Marvel Midnight Suns," aren't making the big bucks Wall Street expected, but larger games such as "GTA V" are holding onto players for longer and adding strong revenue nearly a decade after their initial release.
The "potential new paradigm" of how videogames are developed and sold favors Take-Two "in the long run," Uerkwitz believes.
"If we are correct — titles like 'Tiny Tina Wonderlands' and 'Marvel Midnight Suns' may find a thriving smaller audience (good [return on investment]) but are not likely to become big repeatable hits," he said. "Bigger-scaled successes are likely to come from proven creative directors or known, but not tired [intellectual property]. Take-Two has many of both in the works, and with most under development for years."
See also: Electronic Arts stock logs worst decline of pandemic as 'rare' disappointment resets expectations
That will make the big hits even more important for companies and their investors. Some to watch this year include Bandai Namco Holdings Inc.'s
7832,
-1.25%
"Elden Ring" and Warner Bros. Discovery Inc.'s
WBD,
-0.45%
"Hogwarts Legacy," or what Creutz called breakouts among "big budget, well-marketed games (with few bugs)."
For Take-Two, all eyes are on "GTA VI," with analysts going so far as to dive into hacked materials for earnings projections. The last installment of GTA grew to become the most lucrative videogame in history, and RockStar Games officially confirmed active development of the new version nearly a year ago, leading analysts to speculate that it would appear during the company's 2024 fiscal year, which begins in April.
Read: As gamers wait for 'Grand Theft Auto VI,' Take-Two likely has 'major announcements right around the corner,' analyst says
Wells Fargo analyst Brian Fitzgerald, who has overweight ratings on both Take-Two and Activision Blizzard, called Take-Two's report "meh," adding that the publisher's "strong catalog" and "imminence of GTA VI" helps.
On Activision, Fitzgerald said that the publisher's double-digit percentage beats on bookings and adjusted operating income showed a strong fourth quarter.
Fitzgerald also noted that Activision's Blizzard Entertainment, the studio that publishes the "World of Warcraft" franchise, notched the strongest bookings growth in six years, with an 89% gain from a year ago.
The primary concern, however, is the fate of Microsoft's hanging $69 billion offer to buy Activision Blizzard. Fitzgerald said he expects to hear from U.K. regulators "within the next few days[or] weeks," and that if the deal does not go through, a $2.5 billion to $3 billion breakup fee would bring Activision's net cash up above $10 billion.
Take-Two shares rallied as much as 9% Tuesday and Activision shares surged as much as 6% following late Monday earnings reports from both publishers. The S&P 500
SPX,
+1.29%
and the tech-heavy Nasdaq
COMP,
+1.90%
were both up about 1%. Over the past 12 months, Take-Two shares have dropped 36%, while shares of Activision — buoyed by the yet-to-be-closed and contentious acquisition by Microsoft Corp.
MSFT,
+4.20%
— declined 6%. Also over the past 12 months, Electronic Arts shares have fallen 18%, the S&P 500 has declined 9% and the Nasdaq has dropped 15%.